Posts for tag: dental implant
By Natasha Lee DMD
July 31, 2020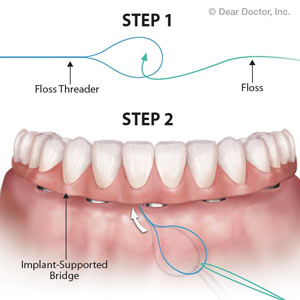 Losing your teeth can be a traumatic experience with serious consequences for your overall health. Fortunately, you have great options for replacing lost teeth that can restore both appearance and dental function.
One such option is a fixed bridge supported by dental implants. While implants are best known for single tooth replacement, they can also be used with other restorations like bridges. In this case, the bridge is screwed into a few well-placed implants to support it.
Implants can provide bridges with more security and support, and without the need to alter adjacent teeth that are commonly used for traditional tooth replacement. They may also slow or stop bone loss because the titanium in implants naturally attracts bone cells that grow and adhere to its surface and provide stimulation to the bone cells during function.
Because of these benefits an implant-supported bridge could be a life-changer that provides years of satisfaction. But we can't simply "set them and forget them": They require dedicated oral hygiene just like natural teeth.
While the bridge materials and implants themselves are in no danger from disease, the same can't be said for the implant's supporting gums and bone. Dental plaque, the main driver in gum disease, can place these tissues at risk for infection that could eventually lead to implant failure.
It's important, then, for you to floss around your new implants to remove any plaque. This differs from regular flossing in which you work the thread between teeth. Instead, you'll have to maneuver the floss between the bridge and gums with the help of a floss threader, a small slender tool with a loop at one end and a stiffer plastic edge at the other (similar to a sewing needle).
To use it, first run 18" of floss through the loop until you get equal lengths and then work the tail of the floss threader between the bridge and gums while holding one end of the floss. Once through, you pull the floss threader through so that the floss is on either side of the bridge. Then grab each end of the floss and pull it snug to floss up and down one side of the implant. Go to the next side and repeat this procedure for all the implants.
As an alternative, you could use an oral irrigator, which emits a pulsating spray of water to loosen and wash away plaque. Either way, though, it's important to floss around implants to get the most life out of your bridge.
If you would like more information on proper care for implant-supported restorations, please contact us or schedule an appointment for a consultation. You can also learn more about this topic by reading the Dear Doctor magazine article "Oral Hygiene for Fixed Bridgework."
By Natasha Lee DMD
October 05, 2019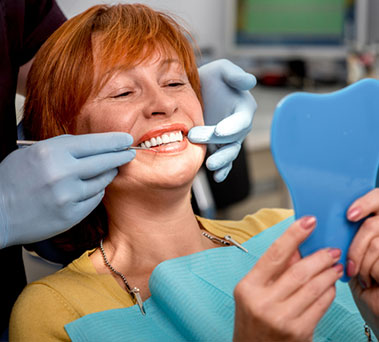 When you hear the word "surgery," your first thought might be of a high-charged operating room with a surgeon operating intently as a nurse mops sweat from their brow. While there are high-stakes surgeries, most aren't quite that dramatic.
Dental implant surgery falls into the latter category. It does qualify as a surgical procedure because we make incisions and tissue alterations for the implant. But it's no more rigorous than a surgical tooth extraction.
Still, if you're new to implant surgery, it's natural to feel some apprehension about it. To calm any nervousness, here's a rundown of what to expect before, during and after the procedure.
Pre-Planning. Implant surgery is usually a routine affair because of meticulous planning beforehand. Often, we map out the implant site using CT scanners or other high-level imaging, identifying obstacles like nerves, blood vessels and sinus cavities, verifying there's enough bone present to support an implant. With this information we can create a surgical plan or guide for placement in the mouth to accurately situate the implant.
Site Prep. On the day of the surgery we'll first administer local anesthesia to numb the entire work area to pain. We'll start with a few small gum incisions to expose the bone. Then using the surgical plan or guide, we'll create a small channel for the implant with a drilling sequence that successively enlarges it until we achieve the best fit for the implant.
Implant Placement. Once we've completed drilling the channel, we'll remove the implant from its sterile packaging and install it in the channel. After we've made any necessary adjustments and verified proper placement with x-rays, we'll suture the gum tissue back into place.
After the Surgery. You might experience mild to moderate discomfort afterward that's usually manageable with over-the-counter pain relievers like ibuprofen or acetaminophen. We can, if necessary, prescribe medication if you require something stronger. We may also prescribe an anti-bacterial mouth rinse for a short time to reduce the risk of infection.
After the implant has integrated with the bone which usually takes about 8-12 weeks, we'll install your life-like crown or restoration. Your new smile and improved dental function will be well worth the process.
If you would like more information on the process for obtaining dental implants, please contact us or schedule an appointment for a consultation. You can also learn more about this topic by reading the Dear Doctor magazine article "Dental Implant Surgery."
By Natasha Lee DMD
July 27, 2019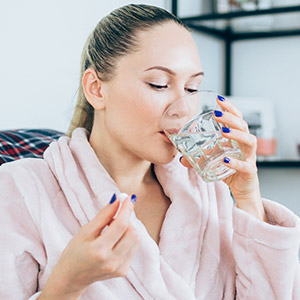 Millions of microorganisms call your mouth home—and while most are friendly, some are not. An invasive procedure like implant surgery can disrupt the mouth's soft tissues and allow disease-causing bacteria to enter the bloodstream.
This isn't necessarily a major concern if your immune system is sound—your body will move quickly to quash any developing infection. But if your body's defense is weak or compromised by other health conditions, an ensuing infection could cause you problems. In the case of a dental implant, a localized infection around it could lead to its failure.
The bone normally grows and adheres to the surface of an implant soon after it's placed, giving it the added strength and durability for which implants are best known. A bacterial infection, though, could impede bone integration and weaken the implant's hold within the jaw.
One way to avoid this is by treating patients at high risk for infection with an antibiotic before the procedure. In one recent study, researchers concluded that patients receiving a 2-gram dose of amoxicillin an hour before implant surgery helped reduce the risk of future implant failure.
But before taking this route, the dentist must first decide whether antibiotic pre-treatment might be more detrimental than beneficial to an individual patient. Antibiotics can cause side effects in certain people ranging from diarrhea to allergic reactions. Healthcare providers must also be prudent with administering antibiotics for the good of society in general—overuse can potentially give rise to antibiotic-resistant bacteria.
A number of healthcare associations highly recommend antibiotic pre-treatment for any dental patient with prosthetic heart valves, a history of infective endocarditis, a heart transplant and similar heart conditions. They also recognize patients with conditions like prosthetic joints, weakened immune systems, diabetics or other serious health problems could also benefit from antibiotic pre-treatment, but leave it to the physician's discretion on whether or not it's appropriate for an individual patient.
If you're planning to undergo implant surgery or a similar procedure and are concerned about infection, speak with your dentist about whether you would qualify and benefit from antibiotic pre-treatment. If appropriate, taking an antibiotic beforehand could minimize your infection risk.
If you would like more information on pre-surgical antibiotic treatment, please contact us or schedule an appointment for a consultation. You can also learn more about this topic by reading the Dear Doctor magazine article "Implants & Antibiotics: Lowering Risk of Implant Failure."